We woke up in Eden, happy and warm in our cocoon of a car. It's quite cosy in the back of the Honda. I feel like a kid again, hiding out in a blanket fort, surrounded by safety. That is, of course, when my leg or my shoulder isn't cramping up from the confined space!

We went into town to check out the Killer Whale Museum and we enjoyed ourselves to no end. Being emerged in the history of whaling in Australia and Eden, reading through the eye witness experiences and seeing the historical remainders of a bygone time captivated both Lib and I.

Known to be the only place in the world (yet to be further fact checked by us) that Orcas and humans worked together to achieve anything (let along bring down whales), Eden has a unique and morally complicated history. Of course, now we frown upon whaling, and certainly, when you read the diminished numbers of whales (300,000 -> 1700 in current time), it's hard to appreciate how an entire city can be built on whaling. Yet, as the info boards informed us, whaling was one of the first big industries in Australia bringing about financial and livable success for the region. It was also interesting to see the Indigenous involvement, with the info boards suggesting Eden was one of the few places in Australia where Indigenious and white fellas worked alongside each other as somewhat equal. In fact, it's likely the local whaler success was due to a collaboration not only with "the killers" (whales) but also their Indigenous family. I still find myself being a tad critical of the whitewashed history – there seem to be no accounts by Indigenous people and the Indigenous section is somewhat cliche in its description of a rich and detailed local culture.
All that aside, the fantastical nature of orcas and humans communicating, working together and often rescuing each other is enough to make any "Free Willy" fan fist pump the air.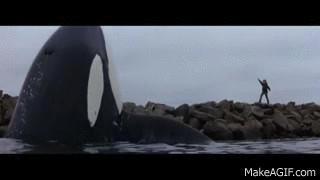 We drove out to Boydtown for lunch at the historical Seahorse Inn – built by the original Ben Boyd himself.

Unfortunately, the menu was limited and pricey, so we drove back into town and ate at the Great Southern Inn, overlooking Twofold Bay. We both had great meals – lamb cutlets and lamb back strap on salad – which filled our stomachs and souls. We were alone on the verandah and from our seats we watched whales far out jumping and playing.

That evening, we rigged up a tiny cinema in the back of the Honda CRV so we could watch the free doco – Killers in Eden (click here to watch). Using our bluetooth speaker for surround sound, and clipping my iPhone 7+ to the inside of the sunroof, we soaked in the visual recreations and listened to eyewitness accounts of the history we had read during the day.
The next morning, our second morning of cereal for breakfast, we got up early enough to head out to Boyds Tower (inside south Ben Boyds National Park). With the added historical knowledge from the museum and doco, the old structures really came to life in front of us.

There wasn't much wildlife to be seen here; most likely due to a recent fire in the area, but we did get to see our first goanna for the trip.

It's crazy to think that people would climb this tower, spot whales and signal to whalers in the bay, who would hand row out of the bay to the whales, harpoon them, tow them back in, break down their bodies for the usable parts (eg oil) all in a day or twos work.

From Boyds Tower, we went to the Davidson Whaling Station. A lovely old homestead with a rejuvenated garden stands to this day (work was being done on it during our visit) and the walk from the homestead down to the Whaling Station felt steeped in history.

There was an abundance of bird life here (particularly bellbirds – impossible to photograph!) and there was a warm friendly vibe to the whole area.

We stopped in at IGA on the way back to camp, and stocked up on some sneaky snacks (cheese, dip, twiggy sticks, beer, ginger beers, twisters) and stuff for sausage sangas.

Back at camp for a calm arvo of reading, guitaring and snacking, we were joined by the brightest birds – our friends from home – the rainbow lorikeets. Lib fed them some birdseed and they happily hoped up for a feed.

Plus we had the Welcome Swallows, Black Swans and different looking Magpies (more white on their backs then up north) for extra company.

Plus Lib found the local Cockatoos and tamed them to come close for some seed.

Overall, we have loved our stay in Eden and our trips into Ben Boyd National Park. It is such a beautiful (abielt chilly) part of the world, with friendly locals and a character filled history.

Tomorrow we head into Bombala and then up to Canberra for a few nights of luxury in the capital (plus Floriade and the National Zoo and Aquarium).